YBK creates the
"footpaths" of the world
You could see and feel the landscape and natural comfort of Japan in many places which using natural soil paving material.
However, there were some problems with this, such as the mud formed after rain and the maintenance burden from weed infestation.
YBK Industrial Corporation solved these problems with our original technique of natural soil solidification.
We provide natural soil paving materials all over Japan, which allow anyone to commune with the soil's texture. We are dedicated to the creation of a calm and comfortable living environment.
Products
GANKOMASA is a weed-preventing material made of natural soil, which can prevent weeds while retaining the texture of soil.
GANKOMASA series can prevent weed growth and can be expected to suppress the heat island phenomenon effect.
For over 19 years since its release, its reliability and performance will be your strong allies.
[Usage] Road tree planting zone, sidewalk tree planting zone, railroad track side, factory greening, Around the outdoor installation device, etc.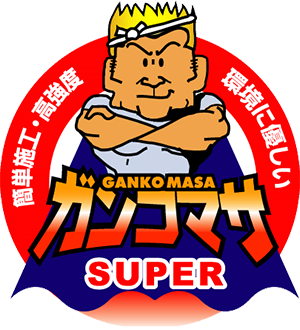 High-Performance Soil Paving Material
Upgraded GANKOMASA, with its durability against impact, abrasion and freezing, is a much higher quality than GANKOMASA.
[Usage] Parks, plazas, stairs, promenades, cultural properties, world heritage, houses (gardens, passages, entrance approaches), etc.
Where you can see
our products
Our materials are often used at sightseeing spots, planting zones on roads, and at ordinary homes in Japan.

Headquarters / Tokushima office

385-1, Enmei, Kokufu-cho, Tokushima-shi, Tokushima, 779-3128
TEL:

088-642-1332

FAX:088-642-1340

Tokyo office

23-2,Kandahigashimatsushita-cho,Chiyoda-ku,Tokyo 101-0042
TEL:

03-6273-3131

FAX:03-6273-3132

Osaka office

4-4-25, Nishi-Nakajima, Yodogawa-ku, Osaka-shi, Osaka 532-0011
TEL:

06-6170-1123

FAX:06-6170-1369
 

Fukuoka office

3-4-25, Hakata-Ekimae, Hakata-ku, Fukuoka-shi, Fukuoka 812-0011
TEL:

092-419-7094

FAX:088-642-1340

Development Department / Laboratory

385-1, Enmei, Kokufu-cho, Tokushima-shi, Tokushima, 779-3128
TEL:

088-643-2902

FAX:088-642-1340